THE ONE BEAN THAT'S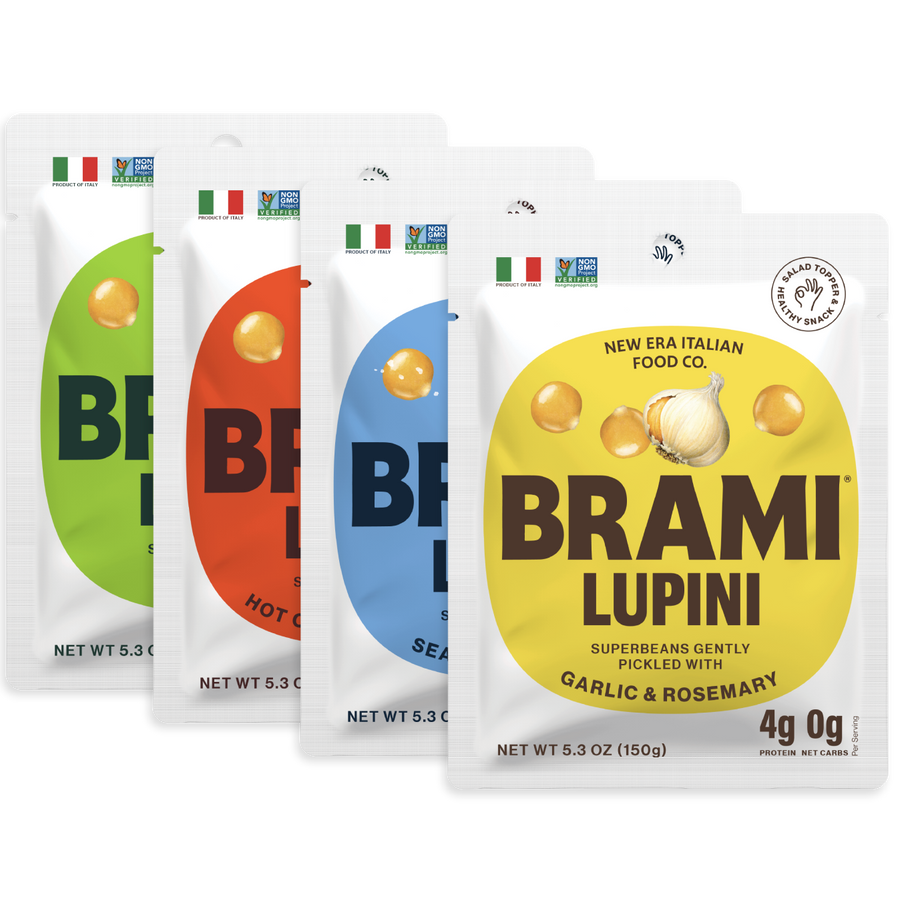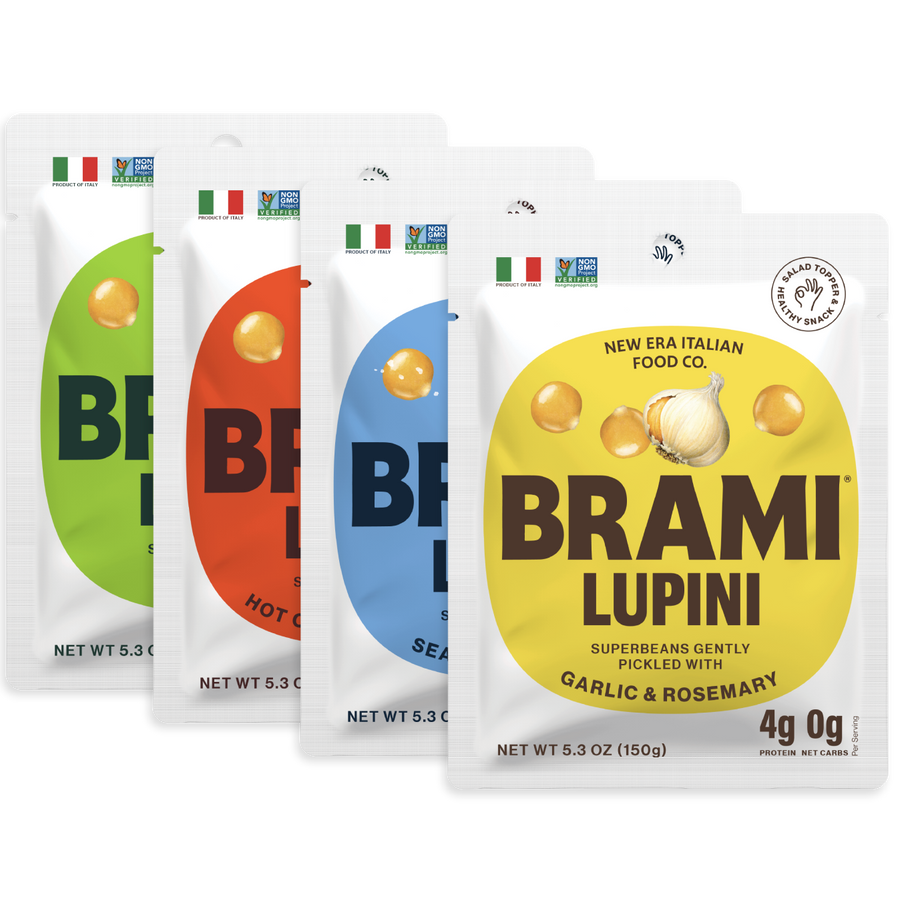 "Extremely nutrient dense"

"A nutritional goldmine"

"Fun and delicious"
Great Healthy Snack

""I eat these like they are popcorn! So much great flavor. Great for snacking or add a little crunch to your salad. They are so good and definitely they will be ordering again and again!""

- Lisa M.

Initially Skeptical

""At first bite, I was skeptical about the texture. But I ate some more, and BAM! Just like that, I started really loving them and seek them out as a snack—daily. Now, I've ordered so many of these beans, and my gut is happier than ever.""

– Kensi O.

Better Taste & Texture

""When I was studying in Italy, we'd snack on lupini every day. When I found Brami, I instantly ordered. They are pricey, but totally worth it - great quality and flavor. Eat them like chips, add them to a salad - whatever you want. The texture is perfect.""

– Isabel N.

Best Kept Secret

""These are the best! These have great flavor and are the perfect healthier snack option. Good thing for the subscription because I know they will keep getting delivered. ""

– Tina W.
1.
The superfood of superfoods
1.
The superfood of superfoods
Nothing gives you more plant protein and fiber with fewer calories and carbs than lupini beans. It's no wonder people call it "The Miracle Bean".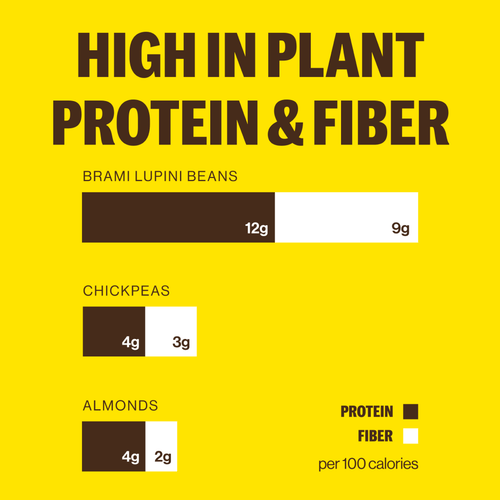 'Extremely tasty and fun to eat! High-protein, low calorie - what more could you ask for in a snack!'
- Linda D.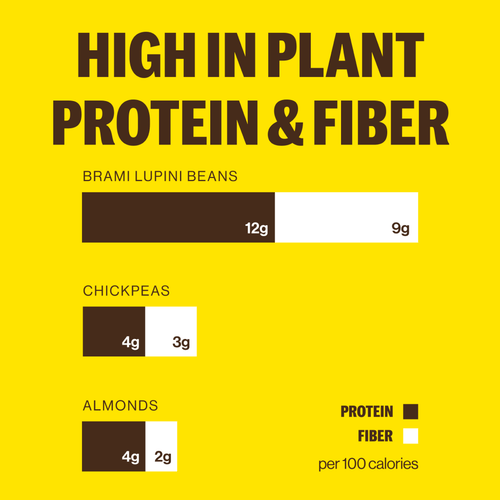 2.
0g net carbs & 35 calories
2.
0g net carbs & 35 calories
Finally, there's a snack that will fill you up and you'll feel good afterwards. This is truly guilt-free snacking.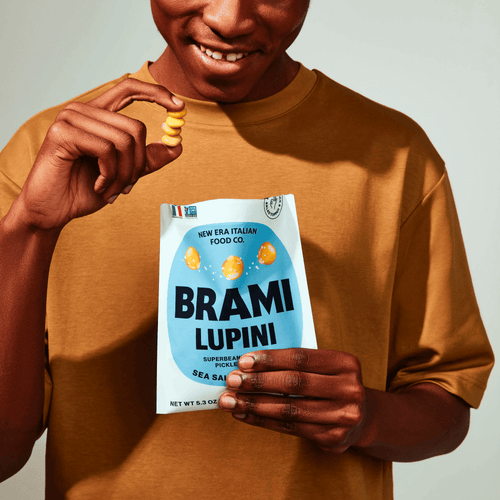 'These are insanely delicious and addictive!! They are my new favorite snack. Honestly, I can eat an entire bag in a day because they are so good, but even so, nothing to feel guilty about!'
- Garrett G.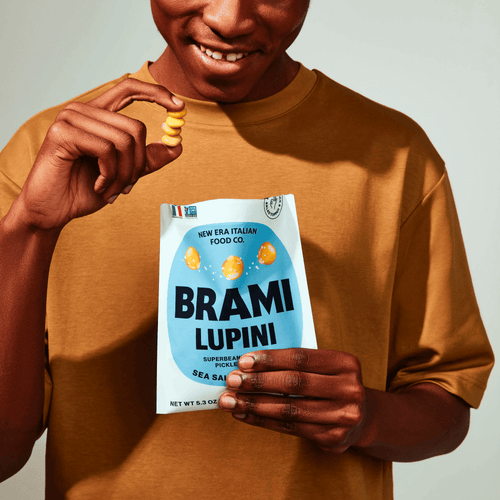 3.
Salads, stir-fries & more
3.
Salads, stir-fries & more
Brami lupini beans are one of the most convenient ways to add plant protein, fiber & texture to your salads, stir-fries & much more. It's your daily plant protein, without the carbs.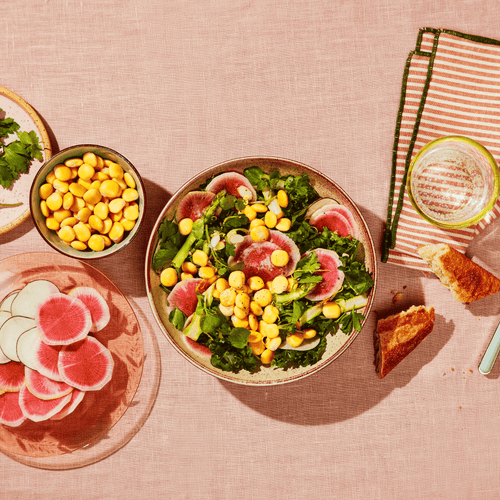 'These lupini are the BEST! I put them on salads - I like the snappy crunch, pickled flavor and the variety of flavors. Chickpeas are second rate nutrionally and bland in comparison.'
- Brady B.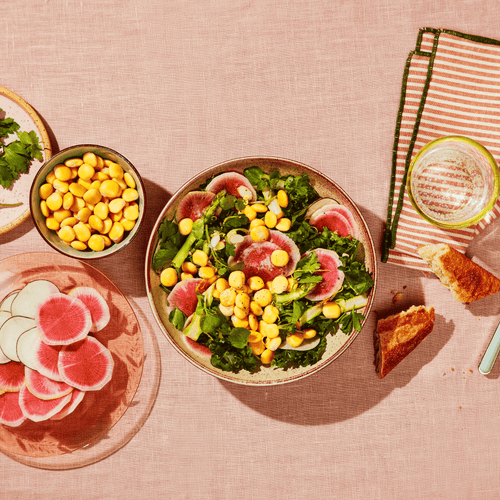 4.
Made in Italy
4.
Made in Italy
Our lupini beans are made in Italy in small batches using only the finest Italian ingredients. They're simply pickled to perfection for an irresistibly delicious taste.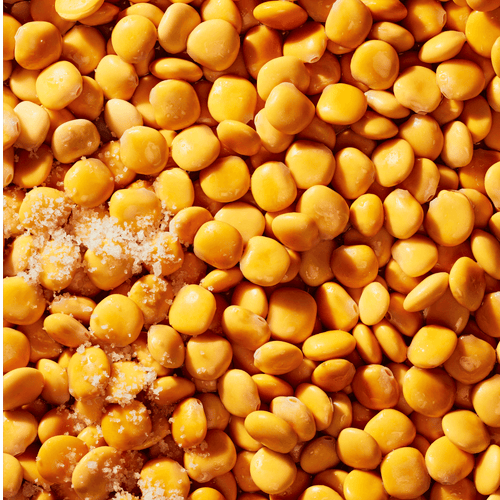 'Lupini beans are my favorite snack, but once i left Italy I usually couldn't find them and if I did they were too mushy, too bitter, etc. Finally I found lupini beans as good as what I got in Italy. These are perfect, and they come in different wonderful flavors.'
- Alice R.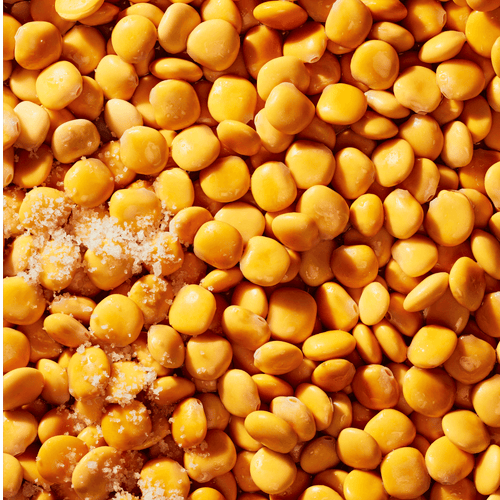 5.
Money-back guarantee
5.
Money-back guarantee
We're so confident you'll enjoy Brami Lupini Beans that we offer a risk-free money-back guarantee, no questions asked.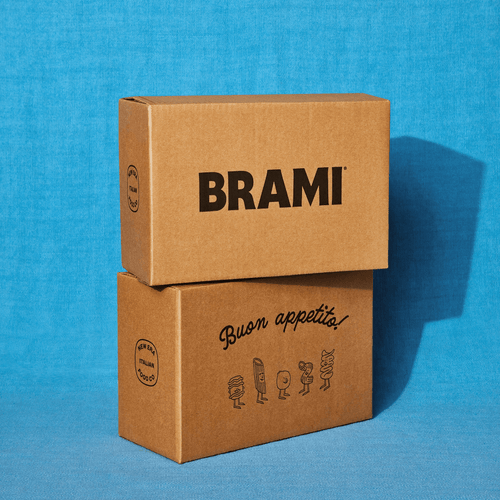 'I bought these honestly not expecting much as I'm not a fan of beans. I was wrong. These are delicious, and I started eating 2 or even 3 packets a day. I would definitely recommend this as a guilt-free snack'
- Hannah C.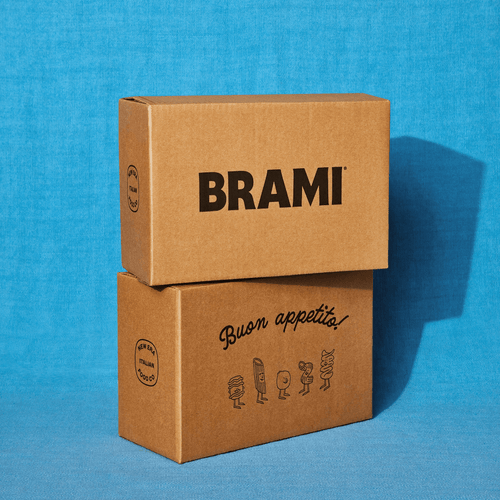 FAQ
Why aren't lupini beans dry?
Lupini beans have been enjoyed for millennia as a pickled veggie snack, and while we are introducing new flavors, we wanted to stay true to this ancient tradition. The moisture is mostly water with a touch of salt, vinegar, citrus and spices.
Why is BRAMI more expensive than "regular" snacks?
We hear you! Popular modern snacks like chips are very cheap to make because they are highly processed, use artificial ingredients, and are easy to make in large industrial batches. Our product is a slow food made in small batches without any artificial ingredients or preservatives.
I thought beans were high in carbs?
Unlike other beans, lupini beans have virtually no starch. We have had our Carbs and Fiber tested by three different accredited 3rd party laboratories to validate our nutrition facts.
What is the money-back guarantee?
We know it can be risky to buy food online that you've never tried. That's why we offer a money-back guarantee on all orders.
View More FAQs
Delicious
I love these spicy beans. They are super flavorful. I like to eat them out of the bag with chopsticks.
Delicious savory protein snack!
I love these so much, they are very satisfying, healthy and delicious! I keep them in my car and purse, and they are way better than a sugary sweet protein bar. The garlic flavor is so good but I also love all the flavors!